Kythera Parts Now Available!
We've just added a slew of Kythera parts to our Parts & Accessories section. This includes the V2 and V3 trigger links you all have been so eager to get your hands on! More parts are coming but these should get you started on all of those custom projects you've been sharing with us.
Take Me There!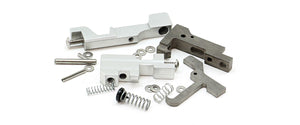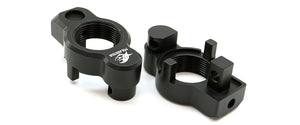 MP5K Stock Adapter Now Available!
The PolarStar MP5K Gas Stock Adapter is compatible with the Elite Force MP5K (CYMA OEM) but is also able to work with the Tokyo Marui and Galaxy models with only slight modification needed to the gun's receiver. It features internal 1-3/16 - 16 threads to accept the UGS and CGS stocks so you can build a fully contained, HPA/CO2 operated sub-gun for CQB without the need for a remote line.

Learn More
Cylinder Shim Sets Now Available!
These sets of precision shims are used to secure an HPA cylinder within the gearbox shell to prevent unwanted movement. Since the pins in a gearbox shell can vary in size depending on the manufacturer, we have to make the matching holes in our cylinder conversion kits large enough to accommodate the largest diameter pins. This can sometimes allow the cylinder to shift backwards or forwards in gearboxes with smaller diameter pins if the shell does not clamp onto the cylinder firmly enough to secure it.
Learn More
Kythera™ Metering Screws Now Available!
Metering screws for the Kythera are finally here! These metering screws are used to adjust the speed of the nozzle as it returns forward so they are used to adjust your "nozzle dwell" for improved feeding with slower magazines. 
Learn More
Kythera Nozzles Now Available!
The first of the Kythera nozzles are now available for order! We'll continue to add more models as we go so keep checking back!
Learn More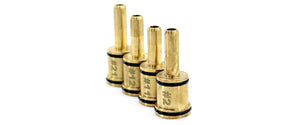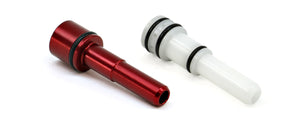 #21 Nozzles for F2 and JACK, Now Available!
We know you've been waiting a while for this one but it is finally here! The #21 nozzle is compatible with the CYMA MP5K-PDW series so now you can get your frogman on while rocking HPA!
Learn More
CGS™ in OD Green, Now Available!
So, you want a CGS stock for your Elite Force limited edition M27 or HK416A5 but can't bear the thought of messing up the earth tones with that common black tube? Well rejoice because we're releasing a limited run of CGS systems just for you!
Learn More